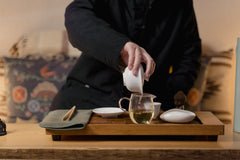 Green tea is manufactured from Camellia sinensis leaves and buds that have not been subjected to the same withering and oxidation processes as oolong and black teas. Green tea originated in China, but it is now grown and manufactured in a number of other East Asian countries.
Green tea comes in a range of flavors, depending on the variety of Camellia sinensis used, growing conditions, horticulture practices, production processes, and harvest timing. There is also extensive research into the potential health benefits of drinking green tea on a regular basis.
History and origin of green tea
Green tea has a long history, but historians believe only a few of them are true. There are several versions of the story surrounding the discovery of green tea. It was discovered 5,000 years ago, according to legend, and there is documentation and evidence to back up these assertions.
The most accepted tale is that it was found by Shen Nung, a Chinese Emperor while sipping a hot cup of water one day. A camellia Sinensis blossom fell into his cup, infusing his drink with the distinct flavor of the tea. He instantly ordered his guards to locate the tea, which they did, and thus green tea was discovered. Another version tells the story of Shien Non-Shei, a normal Chinese man who eats the leaves of the camellia Sinensis, or tea plant, by accident. He was so taken with the flavor that he boiled the leaves in hot water and began to eat them. He later shared this drink with everyone else in the area.
During the Tang Dynasty, around 800 A.D., a Chinese man named Lu Yu wrote an original book titled "Cha Jing," often known as "The Classic of Tea." This book is significant in the history of green tea. Lu Yu was adopted by a Buddhist monk as a child and grew up making and serving tea. His interest in tea grew as he grew older, and his ability to make tea improved. He chose to isolate himself from the rest of the world in order to conduct research and write down his findings. The earliest written work to explain green tea culture and art was "The Classic of Tea."
Green tea's origins, according to some cultural historians, can also be traced back to 3000 years ago, when people who farmed it all across Southeast Asia chewed and ate fresh tea leaves for leisure. Freshly harvested leaves were not exposed to any type of processing prior to being steeped in hot water until considerably later.
How did green tea come to India?
Green tea's arrival in India is a complete mystery. In contrast to the origin of green tea in China, there is no clear evidence of the tea's origin in India. There is no major documentation of a tea industry or tea culture in pre-colonial India, according to historians. The Rigveda mentions tea, and it is thought that tea had a key role in early India's dietary history. Some historians believe that wild tea was consumed earlier in India.
Further spread of green tea into the West
Green tea's spread to the west is quite new. Green tea has taken a long time to make its way from Asia to Europe and America. In the sixteenth century, European traders were first introduced to tea during a voyage to Asia. They were quickly impressed by the drink and transported it back to their homelands, where it eventually became a valuable product.
Green tea's popularity has steadily risen over the previous few decades. Green tea beverages range from a hot jasmine green tea to an iced matcha latte and may be found in most coffee and tea businesses. Aside from its many flavors, its strong antioxidant content has led to numerous health breakthroughs. The more we discover about this incredible tea, the more awe-inspiring and healthy it appears to be.
Why drink Indian green tea?
Indian green tea is rich in anti-oxidants and has a lovely flavor when brewed currently. There are many types of green tea that are harvested and processed in various tea-producing regions of the country. This includes green tea from the Darjeeling region and even the north-east, from places like Assam and Meghalaya along with places in the southern part of the country such as the Nilgiri region. 
We have a couple of green tea options for you to start your green tea journey with! They are as follows:-
1. Meghalaya Green tea - Our Meghalayan green tea which comes in both teabag form and in loose leaf tea form is from a well-known estate in Meghalaya called the Lakyrsiew Tea Garden. Green teas from Lakyrsiew Garden have a delicious aroma with overtones of mango, pineapple, and stone fruit. The tea is made using a traditional Chinese method of pan-roasting fresh-from-the-garden leaf. Green teas don't have the same long finish or absence of astringency as black teas, which is unusual in green teas. Green teas from Lakyrsiew are light and fragrant. They also go well with wine and make fantastic cocktails to accompany dinner!
A few little measures are required for Lakyrsiew teas to express themselves at their finest. First, there's the water, which should always be clean and filtered or bottled. Green teas should be brewed for 4 to 5 minutes at 85 degrees Fahrenheit with 12 grams per litre of water. Boiling water should be avoided since it will 'burn' the tea and cause it to taste harsh.
 2. Kashmiri Kahwa Green tea - Green tea is incredibly nutritious and beneficial to your immune system. However, for some, it may be too light, which is why we at Freshcarton have created the Kashmiri Kahwa Green Tea, which combines the smooth light flavor of green tea with a rich infusion of spices such as cardamom, cloves, cinnamon, rose petals, and saffron. This delightfully scented tea relieves stress and reduces blood pressure while also giving headache relief.