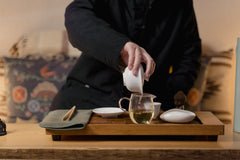 Green tea is manufactured from Camellia sinensis leaves and buds that have not been subjected to the same withering and oxidation processes as oolong and black teas. Green tea originated in China, but it is now grown and manufactured in a number of other East Asian countries.
Green tea comes in a range of flavors, depending on the variety of Camellia sinensis used, growing conditions, horticulture practices, production processes, and harvest timing. There is also extensive research into the potential health benefits of drinking green tea on a regular basis.
What is the history of green tea?