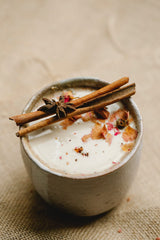 The chai tea latte was popularized by Starbucks and has since become a favorite drink for many, especially in the summer and fall. This one of a kind drink takes inspiration from the delicious tea drink known as 'chai' that originates from India. According to Starbucks, the chai tea latte is "Black tea infused with cinnamon, clove and other warming spices is combined with steamed milk and topped with foam for the perfect balance of sweet and spicy. An iconic chai cup." Despite the fact that it's served in coffee shops and is named after the latte, it doesn't contain any coffee. 
In this blog, we will learn how to make your very own chai tea latte at home and we promise, it tastes just as good!
Things you'll need
Milk - Starbucks uses 2% milk but if you want a creamier drink, feel free to use any milk of choice. You can also use soy/cashew milk

Black tea

Spices - cinnamon, clove, cardamom, star anise

Or, a masala tea spice mix (we have the perfect one for you!)

Sugar or any sweetener of choice

Pot and utensils
Steps
The first step is to make a chai concentrate. A chai concentrate refers to a very strong brew of masala chai which is packed with flavors and is later diluted with milk or water. The concentrate has to be strong enough so that it does not lose its flavors when it is diluted.

There are 2 ways to make a chai concentrate - either you brew and boil water with black tea leaves and the individual, separate spices, or you used a masala chai mix by which you can easily brew the chai concentrate. 

Make sure to add your sugar or sweetener in while making the chai tea concentrate. You can also tweak the amount of each spice to your taste in this step itself. 

Strain out the chai concentrate once it's done.

The next step is to make the foamy milk that goes on top of the drink. To make this, heat milk over the stove and whisk as fast as you can without stopping for about 2 minutes. You can also use a milk frother if you have one.

Pour the chai concentrate in a glass and slowly pour the milk into the cup as well.

Stir and enjoy!
Tips
You can refrigerate the chai concentrate for up to 3 days

You can even flavor you milk with a little sugar or cinnamon for an extra kick

You can also have this cold by allowing the chai concentrate and the milk to cool down before you mix them together. 

Freezing the chai concentrate in ice trays is an amazing way to cool down your drink without watering it down
We highly recommend that you try this recipe out and let us know what you think about it!