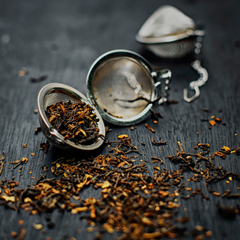 Tea blending is a process by which different types of tes, spices and/or herbs are blended together to create a flavorful final product. Teas of the same type and coming from the same region can be blended to create a balanced flavor profile and teas are also blended with herbs, spices, oils and other additives to create signature flavored tea blends which are extremely popular. The mark of any good tea blend is balance. Tea blending is imaginative and yet cautious at the same time. Each flavor needs to be allowed to shine while lending itself to a wholesome tea blend.
Today we will explore the wide variety of blended teas that are at the disposal of a tea lover starting from well known ones like Earl Grey tea and Masala Chai to herbal blends such as Ginger and Turmeric tea. 
English Breakfast
The English breakfast tea is a classic staple in many households around the world and is a match made in heaven with a heart English breakfast. This blended black tea is robust, rich and goes beautifully well with some sugar and milk. The English breakfast is the most well known tea blend out of the breakfast tea family which also includes the Irish Breakfast Tea and the Scottish Breakfast Tea.
Our blend is a unique infusion of Nilgiri and Assam orthodox tea and hence, this tea  isn't just perfect to start your day with, it is also great to get help you get through your busy work from home schedule!
Earl Grey
Earl grey tea is a type of flavored tea which is quintessentially British. It has a black tea base and is flavored with oil from the rind of the bergamot orange. Both the flavors come together beautifully to create a sublime experience for every tea drinker. Our Earl grey tea has the smooth and aromatic Darjeeling tea as its base and hence is extremely palatable and delicious! Earl grey tea is a stellar replacement for your morning coffee since it gives you energy and has safe levels of caffeine! It is also one of the most recognized tea flavours in the world
Masala Chai
Masala chai is a tea blend that is famous all over the world. Originating from India where the people gave milk tea their own spice filled twist, masala tea is a delicious combination of strong black tea, milk and a mixture of quintessential Indian spices. This tea is usually prepared with milk and spices along with sugar and you are bound to find people in groups sharing their evening tea accompanied with laughter, discussions and of course, biscuits. The main spices used often are ginger, cardamom and cloves and is commonly known as masala chai. Many Indians will tell you how 'chai' is an emotion and this shows how deeply ingrained tea is in the Indian culture.
Herbal blends
Herbal tea blends is a relatively new concept and consists of herbs and spices seamlessly blended with quality black tea to deliver a new and unique taste along with packing a whole host of health benefits in one cup! Some of the most popular herbal tea blends are listed below.
Ginger tea - This tea blend is bright, fresh and zingy. Ginger tea is perfect for you to kickstart your mornings with since it helps your body break your overnight fast and charges your metabolism! Our perfect blend (link) of black tea and ginger brings out the warm, peppery and aromatic notes of the ginger root and is a delight for the senses. This tea goes beautifully with milk and sugar or honey. Ginger tea also has various health benefits including preventing nausea, prevents cold and cough, strengthening immunity and reducing inflammation, along with many others.
Turmeric tea - Herbal teas have a long history of being filled with healing and rejuvenating properties and that is exactly why we have brought the much-loved Turmeric Tea (link), straight from India to your doorstep. Turmeric tea boosts immune function and is a nourishing delicacy, a blend of turmeric, pepper, tulsi and fennel seeds, it is wonderfully fragrant and rich and also has zero side effects!

This ginger, manjustha, lemon peel infused turmeric golden spiced tea is a natural immunity booster. Enriched with curcumin, its healing and cleansing properties.
Kashmiri Kahwa green tea -

Green tea is extremely healthy and great for ones immune system however, it might be too light for many and that is exactly why we at Freshcarton bring to you the Kashmiri Kahwa Green Tea (link)  which has the smooth light flavour of green tea along with a rich infusion of spices like

saffron, almonds, cardamom, cinnamon, clove, ginger, rose perfectly blending in with green tea to get you the rich aromatic Goodwyn Kashmiri Kahwa is a nourishing delicacy you can barely get enough of. Naturally healing and immunity boosting,

this beautifully aromatic tea helps relieve stress and lowers blood pressure along with providing relief from headaches.
Flowers - Herbal tea blends also often include the blending of black teas with flowers which are left with the teas as they oxidize to impart aroma and flavor. The most common flowers used are jasmine, rose and chrysanthemum.
What tea blends are you favorite?
Tell us in the comments below!