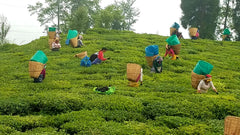 The 'Our Teas' series is a new series of blogs where we tell you all about our collection, moving one by one through the marvelous and delicious teas that we have in store for you!
Today we will be exploring our signature teas, the Darjeeling first and second flush, straight from the lavish tea gardens.
Darjeeling Tea
Darjeeling is a town in the Indian state of West Bengal and is located in the foothills of Himalaya. This beautiful and picturesque location produces one of the most famous teas in the world, Darjeeling tea. Since this type of tea can only be produced here and the location and type of the soil gives a distinct flavor, it is also called the 'champagne' of teas. Darjeeling has more than 75 tea estates which produce premium quality tea. There are different types of Darjeeling tea which includes black tea, green tea, oolong tea, white tea and blended teas. Darjeeling black tea is exquisite and is sought out by tea connoisseurs because of its beautifully fragrant aroma and unique taste which is an absolute treat for the senses! It also has some of the highest amounts of antioxidants when it comes to tea and that is exactly why Freshcarton brings to your doorstep, carefully and lovingly hand-selected black tea right from the tea fields in Darjeeling. It brings serenity to the mind and invigorates the body but whatever you do, DO NOT add milk! The tea estates from where we bring our Darjeeling tea are Puttabong, MIM, Arya, Rohini, Gopaldhara, Castleton etc. Darjeeling tea is also extremely rich in antioxidants and has a beautiful full-bodied flavour that is palatable to most people.
What do they taste like?
We have always talked about our fantastic Darjeeling tea and the exquisite and delicate taste and aroma of Darjeeling tea is unmatched and cannot be replicated anywhere else in the world. This has given the tea industry in Darjeeling a massive boost over the years and it remains a fan favorite.
First Flush
The first flush or the Spring flush yields fresh, light and airy tea, able to wake up all your taste buds. It tastes of leaves and springtime and is a refreshing yet delicate tea.
Second Flush
Summer flush or second flush tea is rich, bull-bodied, with intense color and warmth. It has a muscatel, and fruity flavor.
How is it grown?
The tea gardens are located on the hillsides of the Eastern Himalaya, between 600 and 2,000 metres in elevation. The physical geography of the region results in the land experiencing cool air with dry winter months from November to February followed by monsoon weather in the summer months between July and September. The subtropical and wet temperate forest cover that has developed under these conditions have resulted in slightly acidic loamy soils with high organic materials. Because the plantations are on steep slopes, the soil is well-drained and deep enough for long root systems. Being on the sides of the hills and at high elevations where cool dry air interacts with warm moist air, there is persistent fog or cloud cover during the growing months. These are ideal conditions for the Camellia sinensis plant and it is these climatic conditions that drive the different plucking seasons - Spring (1st flush), Summer (2nd flush), Monsoon flush and Autumn flush. It is these first and second flushes that we proudly bring to your doorstep.
Order now!
Tell us which one is your favorite.