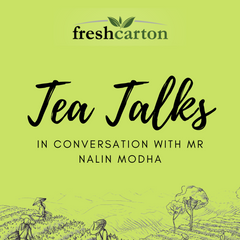 Freshcarton hopped on to an Instagram live session with tea expert, consultant and taster for 4 decades, Mr Nalin Modha, to discuss all things tea. The event took place on the 26th of September at 8:30 am PST (9 pm IST) and was attended by many on the virtual platform.

The discussion revolved around Mr Modha's expertise about tea and his experiences which span over the course of 40 years. Mr Modha gave some wonderful tea recommendations for beginners and people who are about to embark on their tea journey and focused on clonal teas (Like Darjeeling clonal orthodox leaf tea) since the flavor is not complicated and easy on the palate. He also talked about the importance of knowing how to taste tea for the best experience. He enumerated upon how one can differentiate between good and bad quality tea by looking and smelling the dry tea first, then the aroma of the brewed tea and also by checking the leaves after steeping. It is also important to taste the tea when it gets lukewarm and not very hot.

The best practices to brew tea include allowing the water to break (start showing bubbles) and then slowly pouring that water from the side, into the teapot instead of directly onto the tea leaves.

Mr Modha also gave insight into the differences in various tea gardens. He talked about the uniqueness of Darjeeling tea and how this tea could never be compared to tea coming from South India or outside India and attributed it all to the wonderful climate of Darjeeling and the mountain range. However, he also enumerated upon how Japan, Taiwan and China also have wonderful tea stories and industries.

There was also conversation about the change in production process in Darjeeling which took place in 2001 and how fermenting time for the tea leaves have been reduced since then. The process doesn't change the quality however the aroma is compromised when the fermenting process is skipped. The process usually happens in a series of steps – plucking, withering, rolling, fermenting and drying – all these steps are important for proper taste and aroma.

Lastly, Mr Modha talked about how the current pandemic situation has affected the tea gardens. He reassured us by telling us how tea gardens are far from the main cities and social distancing and hygiene measures are being maintained so that the product can be perfect and safe for consumption.
The interview ended with Mr Modha answering questions from our viewers and concluding an extremely informative and enjoyable session!

Stay tuned to our Instagram page for more episodes of our Tea Talks.