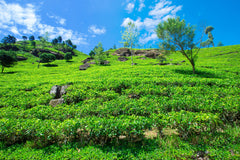 What is tea tourism
Tea tourism is the practice of travelling around the world and visiting organic green tea plantations, which provides a great deal of enjoyment. The most exotic and imaginative way to appreciate nature is to escape to tea gardens set in a serene landscape. It's a brand-new idea that's rapidly gaining traction.
Tea tourism began in the Darjeeling hills at the turn of the century and has now become commonplace in the North-East region of the country. Over the first few years of the last decade, the government put a strong focus on tea tourism. Over the years, a host of tea tourism destinations have emerged, offering some of the most scenic accommodations in some of the world's best tea gardens.
Tea tourism is primarily focused on the undulating beauty of the tea gardens. A well-kept tea garden, complete with tea bushes and shade trees, can be a visual feast. Guests will stay in Tea Bungalows within the Tea Garden in most Tea Tourism ventures. These gardens' scenic beauty is also mesmerizing.
Darjeeling
Darjeeling is a town in the Indian state of West Bengal and is located in the foothills of Himalaya. This beautiful and picturesque location produces one of the most famous teas in the world, Darjeeling tea. Darjeeling has more than 75 tea estates which produce premium quality tea. Anyone who has visited Darjeeling will vouch for its unparalleled scenic beauty. With lush greenery as far as the eye can reach, bordered by the mighty Kanchenjunga which gives way to clear skies with a cool and crisp air, this hill station will surely take your breath away. The tea gardens are a picture of beauty and serenity. The West Bengal government has made space for 'tea tourism' which allows tourists to come and experience living in tea estates, plucking tea leaves, brewing fresh Darjeeling tea and immersing themselves in the local tea culture which is an extremely wonderful and rewarding experience. The backdrop of the snow capped mountains in contrast with the lush green tea leaves is a sight to behold and you will be reminded of it each time you sip a warm cup of Darjeeling tea.
Travel guides, comfortable and luxurious heritage accommodation, and more are all available through Darjeeling Tea Tourism. When it comes to tea holidays, tea lovers will enjoy high-quality brews of fresh tea. Tea tourism allows visitors to learn about the process of making tea while also trying new flavours.
Tea Tourism Activities
The best season to visit Darjeeling is during spring and early summer. There are a lot of fun filled activities one can enjoy in Darjeeling, especially if they enjoy nature. Staying in a tea bungalow or retreat will transport you to the British countryside, where you will be surrounded by tea gardens and hills with a cool breeze. And all of the food served is 100% organic and grown on the farm. You'll wake up with a cup of freshly brewed tea, freshly plucked from the garden.  Some of the main activities are mentioned below!
Tea Garden Walk - This activity involves a naturistic walk amidst the tea plantations, usually led by a guide who is there to tell you all about the tea leaves and the types of tea produced by that particular tea estate.
Tea Processing observation - Observing the processing of tea leaves is extremely interesting and fun since this activity includes looking at the various machinery involved in the drying and other processes that finally result in the tea leaves that we all know and love.
Tea Tasting - This event stands to be the highlight of the trip for many tea lovers who avail the tea tour. It involves tasting tea made from the tea leaves freshly made in the estate. Multiple different types of tea are on the table and this includes a step by step process of how one should brew and taste tea in the way to be able to open up all the latent flavors.
Picnic day out with Birding or fishing - Taking into account the element of nature in Darjeeling, a picnic or birdwatching is something one should not miss out on. The beautiful weather coupled with the scenic view and lush greenery makes it the perfect picnic spot.
Interaction with the Garden workers - For tea enthusiasts, this activity is of importance as the tea garden workers are the backbone of the entire tea industry. Their insight into the processes of tea making is incredible!
Ethnic cultural program with bonfire - Darjeeling also has a beautiful and rich culture to offer to all guests and thus a warm bonfire with cultural programs is a relaxing and fun activity for guests to feel at one with the region.
Nature tours, forest safaris and excursions - Exploring the natural heritage that Darjeeling has to offer is a must for all visitors. Nature tours are a wonderful way to delve deep into nature with a warm flask of tea!
Hill toy train ride (Darjeeling Himalayan Railways) - One of the most famous attractions in Darjeeling happens to be the Toy Train which runs through the picturesque hill station and goes through the refreshing greenery. 
Miscellaneous entertainment with golf, tennis and indoor games are also available.
Some Tea Estates that offer Tea Tourism
1. Ghoomtea Tea Gardens - Ghoomtee, one of the best orthodox tea blend producing estates in the world, is conveniently located near Kurseong on the Hillcart Road on the way to Darjeeling. Between Jungpana Tea Garden to the east and Castleton Tea Garden to the west, the garden is set in picturesque surroundings within the prime quality tea belt of Kurseong Hills. Goomtee is also an organic garden, with no artificial pesticides or fertilizers used. The tea tourism package offered by this picturesque estate includes the following activities
Guided Garden Tour (Tea Testing, Tea Processing, Plucking), ● Nature Walk, ● Birding, ● Bathing under Waterfalls (Seasonal), ● Village Hikes, ● Toy train Ride (DHR), ● Picnic Lunch, ● Excursion or City Tour, ● Gurkha Cultural dance
2. Glenburn Tea Garden - Glenburn, one of Darjeeling's oldest gardens, was established in 1860 by a Scottish Tea Company and spans 1600 acres of land. The garden, perched on a ridge at 3700 feet, provides a spectacular view of Mt Kanchenjunga, with two rivers – Rangit and Rong Dong – flowing through it. Apart from the sprawling tea fields, The Glenburn has its own forest area along the river's edge, which is home to over 100 Himalayan bird species as well as some common animals. The garden provides a variety of lucrative activities, but the ultimate comfort can be found in the heritage Burra Bungalow, where you can enjoy fantastic aromatic tea and delectable cuisine. Activities included in this amazing tea tour is listed below!
Guided Garden Tour (Tea Testing, Tea Processing, Plucking), ● Birding & Wildlifing & fishing, ● Excursion to the Glenburn Campsite, ● Hike along the River Rungeet to Manjitar Village in Sikkim, ● Toy train Ride (DHR), ● Picnic Lunch with barbeque by river side, ● River rafting, ● Excursion or City Tour in Darjeeling/Kurseong, ● Gurkha Cultural dance, ● Special Christmas celebration, ● Herbal Massage
3. Makaibari Tea Estate - Makaibari (literally "Maize Land") is in Kurseong, the Land of the White Orchid, cradled in the lap of the Himalayas. The now-fabled tea estate was founded in this mystical land in 1859. It went on to become the world's best tea garden. Makaibari has several special characteristics, including myths and legends, which make it the most talked-about tea garden. It has its own woodland cover, which consists of six tyres of forest and a number of wild animals and birds. It was designated as the world's first Biodynamic Garden. Makaibari began selling its highest-quality tea, known as Silver Tip Leave, which was harvested on full moon nights, in 1996 by best women pluckers, at a world record price of $400 a kilo. This wonderful tea tour involves the following activities.
Guided Garden Tour (Tea Testing, Tea Processing, Plucking), ● Nature Walk, ● Birding, ● Wildlifing, ● Village Hikes, ● Toy train Ride (DHR), ● Picnic Lunch, ● Excursion or City Tour, ● Ethnic Cultural Show
Living and travel costs
Tea tour packages are usually all inclusive and everything from transportation to meals and sightseeing is all covered under the cost. The tea estates offer a range of prices for these tours according to one's budget and the range is often from between 7000Rs per person to 14,000Rs per person (non inclusive of the cost of travel to reach the nearest airport or train station to Darjeeling) Thus, from a mid range to a higher range, all forms of budgets are covered! We highly recommend that you undertake this journey to this beautiful land of tea, nestled in the Himalayan mountains.