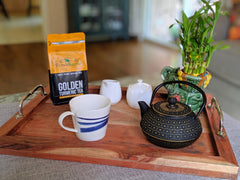 Stressed out and anxious during the pandemic? Fear not! Below is a list of the 3 best teas for anxiety, stress and to help soothe your nerves. Relax with a cup of Freshcarton's healthy tea during these tough times.

Herbal teas have been around for quite a long while and have been praised for their medicinal properties. The health benefits of herbal teas are many and their properties are varied. Each of them has something different to offer to help you be the best version of yourself. These teas are exceptionally good at calming you down and helping relieve stress. It also gives a relaxing experience which is a welcome respite during the constant uncertainty of this pandemic.


What are herbal teas?
Herbal teas are those which are made from a combination of herbs, spices and plants which are then infused in hot water to bring to you natural, earthy flavors and elements which are great for your health.


THE FRESHCARTON 'HEALTHY TEA' RANGE
The Freshcarton 'Healthy tea' line is one which is designed to bring to you the best of both worlds since our blends are a mixture of beautiful, smooth black or green tea which pairs impeccably with the herbs and spices which are essential for herbal teas. Our black and green tea serves as the perfect base to carry through these flavors which make drinking from our Healthy tea range, a pleasure for the senses along with being extremely rich in rejuvenating and medicinal properties. Our teas not only pack a punch when it comes to
aroma and flavor but also help in boosting immunity, relieving stress, reducing anxiety, lowering blood pressure, reducing headaches and helping reduce inflammation along with other benefits. Thus, our range has 3 extremely well-made combinations that will do wonders for your stress and anxiety during the pandemic.
TOP 3 BEST HEALTHY TEAS

1. Ginger tea
One of the teas that we bring to you as part of our healthy tea range is the bright, fresh and zingy, Ginger Tea. It is perfect for you to kickstart your mornings, since it helps your body to break the overnight fast and charges your metabolism! Our perfect blend of Assam CTC with bits of ginger pieces brings out the warm, peppery and aromatic notes of the ginger root and the bold flavor of the tea - it is an absolute delight for the senses. Ginger tea also has various health benefits including preventing nausea and cold, strengthening immunity and reducing inflammation to name a few. We recommend having this tea with milk and honey (if you like it sweet).

2. Turmeric tea
Turmeric has a long history of healing and rejuvenating properties and that is exactly why we are bringing to you the much-loved Turmeric Tea, straight from India to your doorstep. Turmeric tea boosts immune function and is a nourishing delicacy especially if you have it with milk. A blend of turmeric, ginger, manjustha and lemon peel, it has a wonderful fragrance and zero side effects! Enriched with curcumin, it also has the healing and cleansing properties. Find this bright, beautiful and hearty tea on our website and let it work its magic.

3. Kashmiri Kahwa green tea 
Green tea is extremely healthy and great for boosting your immune system. However, it might be too light for many and that is exactly why we at Freshcarton bring to you the Kashmiri Kahwa Green Tea which has the smooth light flavor of green tea along with a rich infusion of spices like cardamom, cloves, cinnamon, rose petals and saffron. This beautifully aromatic tea helps relieve stress and lowers blood pressure along with providing relief from headaches.
These teas will be a wonderful addition to your pantry and a quick fix for nerves, jitters, stress and nausea. They also taste great!

Apart from our Healthy Tea range, simple herbal teas also work well to relieve stress and
help calm nerves. Some of these herbal teas are listed below!


5 HERBAL TEAS THAT HELP REDUCE STRESS

Chamomile | Peppermint | Lavender | Green tea with Tulsi | Hibiscus

1. Chamomile tea

Chamomile is a beautiful flower and is synonymous with serene and calm. Chamomile tea is one of the most well-known remedies for stress and anxiety. It calms down the senses and has pronounced sweet and floral notes which make it a perfect drink to relieve stress with.

2. Peppermint tea

Peppermint oil has been long used to soothe anxiety and in the same way, the crisp and minty flavor of peppermint tea leaves a cooling sensation in one's mouth and helps calm a person down with its mildly sweet yet refreshing flavor and makes for the perfect cup!

3. Lavender tea

Lavender tea is beautifully aromatic and has a distinctive taste with notes of rosemary and mint along with an exquisite floral flavor which soothes the nerves. Lavender tea is known for its sedative effects and helps in mood - stabilizing which is ideal for a night cap.

4. Green tea with Tulsi

Green tea with Tulsi is a staple in Indian stores and households. Tulsi has a refreshing flavor and it works perfectly with the mild and smooth flavor of green tea to make an antioxidant rich tea which is delightful to drink and also helps relieve stress along with having herbal healing properties which give your immune system a boost in these trying times.

5. Hibiscus Tea

Hibiscus tea is beautiful to look at, with its bright and rich red color. Being a tea extracted from a flower, the floral notes are extremely pleasant and a mild sweetness mixed with the sharp, tart flavor of the flower make it an extremely lovely drink which has properties that help regulate blood pressure and help calm the nerves.

We hope these teas help you relieve stress, soothe nerves and anxiety and boost your immune system!


Do you have a favorite?

Did we miss out on any?

Tell us in the comments below!