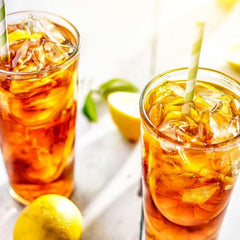 Craving some cool ice-tea during the summer months? Don't worry! Freshcarton has just the right recipe for you to try out! We are kick-starting our tea recipe blogs with the classic, cold brew iced tea.
We have the best iced tea recipe for you in 6 easy steps! 
Use Freshcarton Darjeeling tea for a delicious cold brew!
What is cold brew tea?
Cold brew tea is when tea leaves or teabags are left to steep in cold water so that the flavours infuse. It takes much longer than your regular hot tea simply because steeping in cold water is a lengthier process and takes more time for the flavors to develop. Using cold water instead of hot water extracts more of the flavors but slower and over a longer period of time.
What are the benefits of cold brew iced tea?
Cold brew tea has less caffeine (almost about half) than its hot brewed counterpart for the same amount of water due to the slow steeping process, so it is easier on the stomach and the taste-buds and can be enjoyed by most people, young and old.
Both cold brew coffee and cold brew tea have grown in popularity over the last few years and ice tea or sweet tea is a fan favorite. This is a cold version of our favourite hot drink, the Darjeeling black tea. So, let us teach you how to make the perfect iced tea in style, using our beautiful and smooth tea blends. 
Why use the Darjeeling black tea?
The Darjeeling black tea is exquisite in both its flavor and aroma. It is sought out by tea connoisseurs all over the world because of its beautifully fragrant aroma and unique taste. This tea has a complex flavor profile with musky, sweet tasting notes which is an absolute treat for the senses! Our Darjeeling black tea comes from some of the best and renowned tea estates in the region including Puttabong estate, Gopaldhara, Arya, Castleton and Mimi tea estate and thus is a tea drinkers delight. All our tea flushes work extremely well with this recipe and provides a range of flavors from a light and airy iced tea to a more rich and flavorful iced tea that packs a refreshing punch!
Iced tea can be consumed all around the year depending on your preferences but we feel they are perfect for the hot summer and a refreshing drink for the evenings or to serve at your brunch plans since this recipe is bound to impress.
Why is Freshcarton Darjeeling black tea the best choice to brew iced tea?
You may wonder why our Darjeeling black tea is the best choice for a cold brew sweet tea. This is because, while Darjeeling black tea is usually brewed in a specific way, and consumed hot, the aroma and taste of the tea lends itself to make a refreshing ice tea for whenever you need a pick-me-up drink. Darjeeling black tea has always been a classic choice for brewing iced tea and Freshcarton's black tea, which is brought directly from the tea estates in special packaging to preserve the freshness, allows you to taste the freshness in every sip!. The cold water pronounces the sweeter and fruitier notes of the tea thus making it the perfect choice. You can easily prepare iced tea at home using our Darjeeling black loose tea leaves or teabags and enjoy the tea you love on a hot summer day with a cool twist.
Here is the step by step recipe for the best cold brew iced tea!
Follow these steps for the perfect, healthy iced tea that is super easy to make.
Place 5 tablespoons of loose tea or 10 teabags in a glass or plastic (4- to 8-cup) pitcher - Place the required amount of tea (you can also halve these measurements) in the large container or pitcher. At this stage, you can add a lemon or any other citrus fruit of choice according to your taste so that it also infuses at the same time. Cut it into slices and add it into the pitcher along with the tea leaves or teabags.
Pour chilled, preferably filtered water over the teabags or tea leaves - Filtered water is usually recommended and preferred by most tea connoisseurs all over the world since it works best at bringing out the flavours and creating a smooth tea. You can pour in half the amount of water into the pitcher (4 cups) at this point to create a tea concentrate which you can later dilute while serving or you can pour in the entire amount of water into the container (8 cups). We recommend pouring in 8 cups of water (the entire amount) into the pitcher and letting the tea infuse and steep in its entirety for easier serving and less hassle!
Cover and store the pitcher in the refrigerator for at least 2-3 hours - Since the tea is being steeped in cold water, it takes time for the flavors to infuse and become concentrated. While 2-3 hours works best if you are in a rush and making sweet cold brew iced tea for your family's evening or brunch activities, the optimum time is 6 hours and it can be safely steeped for up to 12 hours for the beautiful flavors of Darjeeling black tea to come through. Cover the pitcher with a lid and store in the refrigerator (remember, not the freezer!)
Use a sweetener for the cold brew iced tea - Cold brew tea will be sweeter than hot brewed tea in general because the hot water makes the leaves release more tannin's and causes the tea to have a more bitter flavor however, since that is not the case with cold water, the tea will be sweeter than usual. For a sweet tea, we recommend using honey since sugar will not mix with the cold water well. Honey also adds a richness and depth of flavor to the tea along with keeping it as healthy as possible! Add honey according to your taste.
Strain the tea into cups - After 2-3 hours (or 6 hours) the cold brew iced tea is ready. Use a strainer to strain the tea so that the tea leaves and the pieces of citrus fruit that we had added for a refreshing kick are separated from the cool and beautiful honey colored liquid which is now ready to serve!
Top it off with some lemon juice, mint or ice as preferred and enjoy - Our Darjeeling black tea and this recipe pairs beautifully well with lemon and other citrus fruits for a refreshing cold brew! You can also add a couple of mint leaves to add to the refreshing factor and top it off with ice on a hot summer day.
And there it is! The perfect cold brew iced tea using our exquisite Darjeeling black tea. If our empty pitchers are any indication, you will need more than just one pitcher because this sweet tea recipe always ends up becoming a family favorite!
Try out this recipe and tag us on Instagram or facebook so that we can see your creations!
Did we miss out on anything?
What do you want to see from us next?
Comment below and let us know!